Quick Tip – adding a payroll instruction Pt. 1
by Kristen, Payroll Specialist
As your payroll expands and evolves, you may need to add earnings, benefits or deductions (payroll instructions), or even create them. The Everest system comes with a set of payroll instructions to choose from including vacation policies, overtime, etc, which is what we are going to go over.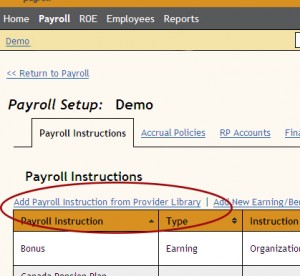 A payroll instruction must be applied to your business before it can be used. To check if this has been done, click on "Payroll", then "Payroll Set Up" to see what is currently set up for your payroll. For this example, we are going to look for "Vacation Pay Paid".
If you do not see "Vacation Pay Paid" listed under the orange "Payroll Instruction" column:
Click "Add Payroll Instruction from provider library".
Under the Earnings list, select "Vacation Pay Paid"
This will bring you to the screen where you can enter in options, two of which we will be looking at, marked in red: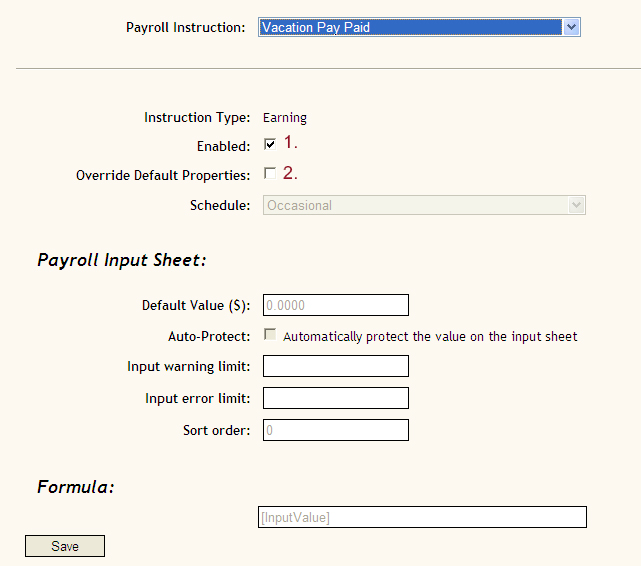 1. Keep the check box "enabled". This allows a payroll instruction to be used.
2. Checking the "override default properties" box will allow us to make some changes. For example, right now the "schedule" is set to "Occasional". This means that you will occasionally use "Vacation Pay Paid" and it won't show up on every input sheet- you will need to add it to the input sheet when you want to use it. If you want to have "Vacation Pay Paid" show up on every pay run, change the "schedule" to "Every pay period (regular pay runs)":

Hit "Save" and the payroll instruction is now applied to your payroll.
In future posts, we will look at the other options listed for a payroll instruction, applying them to employees, as well as creating brand new payroll instructions.