Engaging staff on a limited budget – Part 1
By Darryl Stewart, Head of the Herd
I have heard it time and again. "The reason that people leave our company is that our wages and benefits are just too low.  If we had better pay and better benefits, our staffing situation would be so much better."
This is only partially true.  It's true that pay and benefits must be at an acceptable threshold, in the ball park, so to speak, for comparable work the person could be doing elsewhere.  Beyond that, however, other things are much more important to the vast majority of people.
Studies show that people will willingly choose to work at a particular workplace for less money than they could make elsewhere if certain conditions are met.  That's right; people are willing to work for less given the right conditions.  As leaders, we need to become intimately familiar with these conditions. My thoughts on this topic are based on the book Drive, by Daniel Pink.  If you want to quickly get a new perspective on what truly motivates people watch this TED talk by Pink.
In his book, Pink explores the science behind motivation.  His conclusions helped me make sense of some of my observations about people and have given me some extra personal motivation to be a better leader.  He offers up some exiting new ideas, put in terms that I had never considered.
Pink says that there are three things that all people crave and value more than money:
In this first post I am going to focus on autonomy.  In future posts I will talk about the other two.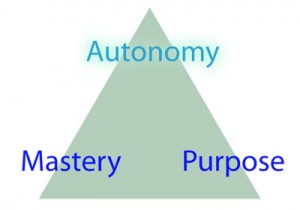 For many front line jobs in organizations, the reality is that staff could make more working in a restaurant when you consider the tips possible.
How do you "tip" the scales in your favour?  One way is autonomy, giving people choice in how they go about getting things done.
We all crave autonomy and choice – being able to do things our own way gives us ownership and pride and makes a job well done feel even better.
But how can this work in a front line job with tight schedules and many rules to follow?
At IBEX, we have a customer support team of five awesome people.  We affectionately refer to them as Alpine Crew or just "Alpine".  In Alpine calls are not timed and every Alpine member is empowered to do what they think is right in any customer service situation.  This is a far cry from a typical "call centre".  Like at most jobs each Alpine member has to show up when they are scheduled, our customers depend on them, but they work out amongst themselves who goes for lunch and personal appointments when and it changes often depending on everyone's needs.  The ladies work out a "ladies lunch" every few weeks and the guys back them up in return for an occasional Friday afternoon golfing (or other goof off) session.  No one from "management" keeps track of how long the ladies lunch takes or how many times the goofing off happens.  The team all back each other up and as long as the customer's needs are met, these things are totally encouraged and are non-issues.
It makes sense to me that we all want to be players, not pawns.   Each and every person that works with us wants to be an individual and feel the success of their own actions.  Understanding this and finding ways to support it and encourage it instead of "managing people" is a challenge I am laying down for myself.
I think the IBEX Alpine example is only scratching the surface on how to offer autonomy to people.  If you have any more concrete of autonomy in the workplace, I would love the hear them.  Email me or post a comment with your ideas and I will pass them on!