Its Coming…
By Spencer Yarnell Head of Spreading the Herd Word
Do you feel it?
That's change rolling your way. Clean Your Green is gearing up to launch this Friday.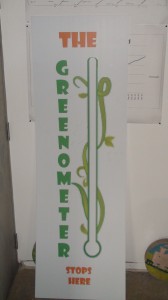 There will be tweeting. There will be contests. There will be promotions. There will be shameless online stunts to get you to donate.
Either way its going to be fun and you don't want to miss it. Follow us on twitter and facebook so you don't miss a minute of the action.
Oh and I just found something in the back. I got some really big signs this year…
Goatbuzzter out.