Money can't buy you love
Marshal Goldsmith conducted a research project involving more than 200 high potential leaders from 120 companies around the world. Each company could nominate only two future leaders, the very brightest of its young starts. The high performers (you know the type) who could easily leave the organization to better-paying positions elsewhere.
These stars were asked one simple question: "If you stay in this company, why are you going to stay?" The top three answers were:
"I am finding meaning and happiness now. The work is exciting and I love what I am doing."
"I like the people. They are my friends. This feels like a team. It feels like a family. I could make more money working with other people, but I don't want to leave the people here."
"I can follow my dreams. This organization is giving me a chance to do what I really want to do in life."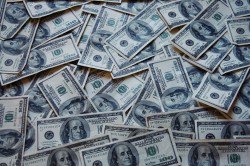 The answers were never about money. They were always about happiness, relationships, following dreams, and meaning. Turns out these are exactly the same type of answers people give on their deathbed about what was important to them.
It is hard to build a culture around you that can lead to answers like these from your team. But it is possible and it requires more than money.