Move the Greenometer 2012
By Spencer Yarnell Head of Spreading the Herd Word
It's here! It's finally here!

Tomorrow  we here at IBEX Payroll start our sixth annual Clean Your Green campaign titled Move the Greenometer. This year we'll be cleaning up only as much as you guys donate so dig deep Winnipeg because it's going to be a wild June! The campaign this year has a few different goals!
To raise $8000 for Habitat for Humanity
To Clean up the gardens South of the Osborne Underpass
To have a great time doing it in a way so that the whole city can see the progress of our campaign!
The way Move the Greenometer works is every Friday for the rest of June the IBEX herd will get out and clean the garden, but the catch is, they'll only clean a meter of the garden for every$130.89 they've received in donations thus far, so you'd better get generous if you want a clean city!
For more info see our newly refurbished website!
Also you'll want to follow us on Twitter, Facebook and here as we pull off some crazy stunts and promotions to try and get Green Cleaned. You want your own personalized song? I'd suggest you get following us (Hint, hint, nudge, nudge).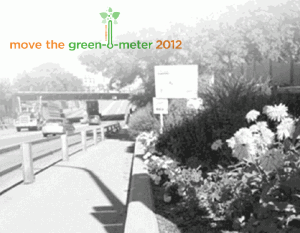 Either way get ready for an unreal June Winnipeg! Get ready to Move the Greenometer!
Goatbuzzter out.