Payroll Gone Electric
By Spencer Yarnell Head of Spreading the Herd Word
Now the title may seem odd. Unless you're still doing your payroll via abacus (and let me know what the CRA thinks of that) you're using some form of electricity to do your payroll. Big whoop.
But IBEX wasn't satisfied using Manitoba's outrageously low power charges simply for the system and its servers. No we wanted wheels. So we teamed up with the Peg City Car Co-op a car co-op company in the city and now Peg City's first electric car is parked in parking spot number one at the IBEX business center.
Payroll deals on wheels baby.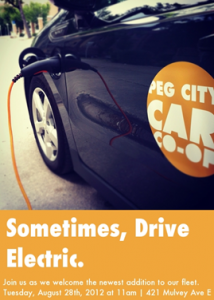 But some of you might be thinking to yourself. What does he mean by a car co-op? Well the premise of the Peg City Car Co-op is this: the co-op owns several different vehicles around the city, and regular folks can buy a membership to the co-op which then gives them ability to book time in any one of the vehicles for a low usage cost. The idea is that people can still occasionally use a car without having to pay the full expense of car ownership, and now people can use a car without having to feel the full deadening force of gas prices. The Chevy Volt, IBEX's newest parking lot addition, is aptly called a "game changer" able to go 40-80 km without needing a recharge. Reminds me of my far too energetic brother.
The inevitable question is why? Why does a payroll company team up with a car co-op?
It's because this stuff matters. Co-ops let a lot of people drive who otherwise couldn't afford it and well I think it's safe to say we can't ignore the environment anymore. It's important.
Your business is more than your bottom line. No one will remember your pay cheques.
Goatbuzzter out.
PS. We're having a launch party for the Volt today at 11 AM in the IBEX parking lot. I know it's short notice but if you've got time stop by!
PPS. Interested in the Car Co-op and how it works, their website lays it all out nicely here.