Saying Goodbye to a Great Employee
It is a dilemma. A great member of your team is leaving for a totally understandable reason. You are sad to see this person go and you truly wish them well.
What do you do? Do you make a big deal about it? Do you let them leave with barely a word?
I think you do something meaningful. It is a chance to thank the person for being a great member of your team and a chance for everyone to reflect on the time that you all worked together. Life is short and our work life is a big part of it, we should stop and celebrate the success we have had.
Some ideas:
Go out for a group lunch on the boss with key co-workers.
Go for a drink with the team after work at a local watering hole.
Shut down the office for half an hour and gather everyone together for some snacks, a slide show and some reminiscing.
A lunch with just her supervisor or a half hour walk around the neighborhood, during work hours for some thanks and reminiscing may be the trick.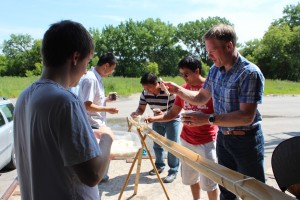 You are a great manager so you know this person well. Do what you think will mean the most to him/her.
I always imagine the scene at home when the person comes home from their last day. I want the person to tell their friends and family that the gang at work really cared about them and sent them off with style.   I don't want them to have to say that nothing happened at all or that "all I got was a goodbye as I left and this cheesy travel mug".
Sooner or later great employees think about coming back. I have seen it many times.   Great managers leave the door wide open.
We had a great employee leave IBEX last week. He was returning to China to look after his parents. We had a sliding noodle party in our parking lot for lunch, then we all gathered and watched a video that the Herd Word Nerds put together to celebrate his time with IBEX. It was one of the most memorable days in IBEX history. Many laughs and tears. I am glad we put the effort in.
Check out the video for an idea of what we did and for a look deep inside IBEX culture.