Stay focused on the positive
A few weeks back I went into the wilderness of Manitoba on a canoe trip with my 14 year old son.
Like all parents, my wife and I worry about our kids. With my son, we worry that he spends too much time in the basement on his computer and that he is a bit of a "scammer", always looking for an angle to get an advantage for himself.  For example, he will go to great lengths to avoid cutting the back lawn of our house (the larger part where picking up doggie doo is part of the deal), always angling, often in humorous ways, for the front lawn and trying to make sure his sister has to do the back. Finding short cuts is part of my son's nature and we worry that he will come across as lazy or unmotivated to others in the future.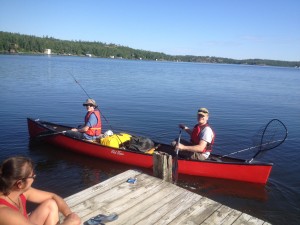 On our paddling adventure, there was no room for short cuts. There was nowhere to hide. Paddling, difficult portages, and tons of camp site chores required both of us to do our part. I was satisfied to see a streak of toughness in my son. When he saw there was nothing to do but get down to doing the work at hand, he did the work.
I also discovered that my son is turning into an intelligent young adult.  He cares deeply about the world and about other people.  He shared his concerns, more articulately than ever, about the injustices and hypocrisy he sees in the world.  He is well spoken and has a balanced view, despite his long hours in the basement.
How hard he could work and how good natured he could be about it were brought home to me on our final paddle out. We left at three pm and did not hit the parking lot until nine. What should have been a three and a half hour paddle became a six hour trek thanks to strong headwinds.  He did his part the whole time, pushing us without complaint.  I concluded from his manner on this trip that he will likely be the jokester on whatever projects or teams he is part of, but that when push comes to shove, he will do his part and get the work done. My wife and I will have to move our worry onto something new!
When you lead someone, I think it is too easy to get focused on the flaws, to obsess over them and to underestimate the potential in people. This trip with my son reminded me of many leadership experiences I have had where one of my team, flaws and all, knocked something out of the park. Times where I was blown away by the performance and reminded to never doubt the potential in people again. With a caring leader encouraging them to try new things, forgiving mistakes, and guiding them towards areas where they can succeed and build confidence almost everyone will thrive. This is the basic mindset that I choose to adopt for both parenting and leadership.