The Fixers
By Spencer Yarnell Head of Spreading the Herd Word
The Everest Payroll System is not a static thing.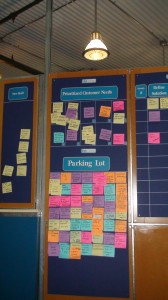 The Everest payroll system is constantly undergoing changes and updates thanks to our tech crew Mountain Do. Led by Frank our Head of Mountain Do, the crew analyzes customer needs and makes changes and updates to the system appropriately. Let me give an example of how this might work:
Every day the IBEX crew meets and talks about improvements or changes we need to make to the system. We get these ideas for improvements from customers and from our experts who work with the nooks and crannies of the system every day. Since we let Mountain Do go home at night (Sigh.. Labour laws..) we prioritize the improvements based on need, cost and time. I think our Head of Herd Geeks Peregrin put it best this morning:
"If we had time and money the system could do everything!" (The coffee making time-piece is in the works)
Once we choose projects Mountain Do works through them and deploys the upgrades in deployments. On average we are deploying updates weekly or biweekly.
So it's pretty simple. This stuff just keeps getting better.
Kind of like wine. Everyone like wine right?
Goatbuzzter out.