The Hard Decisions of Halftime
By Spencer Yarnell Head of Spreading the Herd Word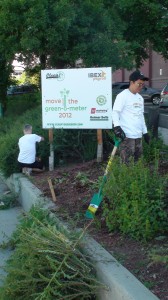 Halfway there. $4000 raised.
But $4000 more to go.
I want to take this time to thank all the amazing businesses who have donated, all the wonderful people who have donated their time and a special thanks to Reimer's, 6P, and St. Boniface Pallet Co. our major sponsors. This kind of a campaign couldn't exist without you guys.
Halftime seems like a natural time to re-evaluate your strategy. Is our marketing working for this year's campaign? If not, why is that so? Do we just need to give it more time? One of the hardest things to access in marketing sometimes can be the distinction between a failed campaign idea and a slow-starting campaign idea. Pulling the plug too early can lose you tons of opportunities you never knew you had, pulling the plug too late can just cost you time and money.
The dance continues.
It's halftime here but one thing is for sure. We're gonna work hard, and garden hard to meet our goals.. Because I think it's pretty obvious that the IBEX is fairly stubborn…
Goatbuzzter Out.